Description
GPS module NEO-6M
The NEO-6M is a GPS (Global Positioning System) module and is used for navigation. The module simply checks its location on earth and provides output data which is longitude and latitude of its position. It is from a family of stand-alone GPS receivers featuring the high-performance u-blox 6 positioning engine. These flexible and cost-effective receivers offer numerous connectivity options in a miniature (16 x 12.2 x 2.4 mm) package.
The compact architecture, power and memory options make NEO-6 modules ideal for battery operated mobile devices with very strict cost and space constraints. Its Innovative design gives NEO-6M excellent navigation performance even in the most challenging environments. ( find out a wide range of IoT And Wireless at solicstores.in)
NEO-6M GPS Module Pin Configuration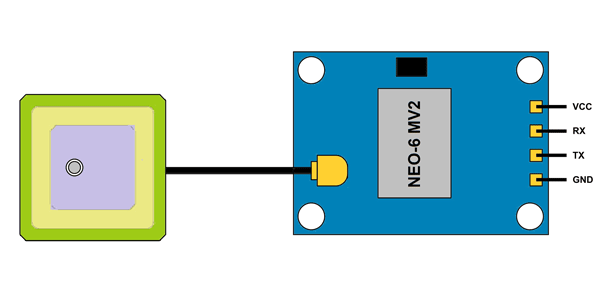 The module has four output pins and we will describe the function each pin of them below. The powering of the module and communication interface is done through these four pins.
| | |
| --- | --- |
| Pin Name | Description |
| VCC | Positive power pin |
| RX | UART receive pin |
| TX | UART transmit pin |
| GND | Ground |
How to use the NEO-6MV2 GPS Module
Getting this module to work is very easy. For the application circuit below we have connected the power to board and interfaced the output to the microcontroller UART to get it done.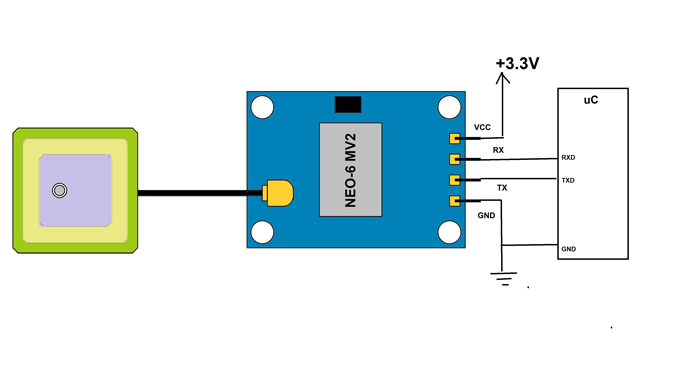 After circuitry you need to set the baud rate of the controller matching the module, if it's not matched you will get an error. With baud rate setting done you can read the serial data directly from the module. This data will be longitude and latitude values and the user can play with them as desired.
The raw values provided by the module are cumbersome to read directly and so a simple decimal calculation can be done in programming for getting easy to read values.

Features and Electrical Characteristics
Standalone GPS receiver
Anti-jamming technology
UART Interface at the output pins (Can use SPI, I2C, and USB by soldering pins to the chip core)
Under 1 second time-to-first-fix for hot and aided starts
Receiver type: 50 Channels – GPS L1 frequency  – SBAS (WAAS, EGNOS, MSAS, GAGAN)
Time-To-First-fix:  For Cold Start 32s, For Warm Start 23s, For Hot Start <1s
Maximum navigation update rate: 5Hz
Default baud rate: 9600bps
EEPROM with battery backup
Sensitivity:  -160dBm
Supply voltage: 3.6V
Maximum DC current at any output: 10mA
Operation limits: Gravity-4g, Altitude-50000m, Velocity-500m/s
Operating temperature range: -40ºC TO 85°C
Applications
GPS application
Smartphone and tablets
Navigation systems
Drones
Hobby projects
Package Includes:
1 x Ublox NEO-6M GPS Board